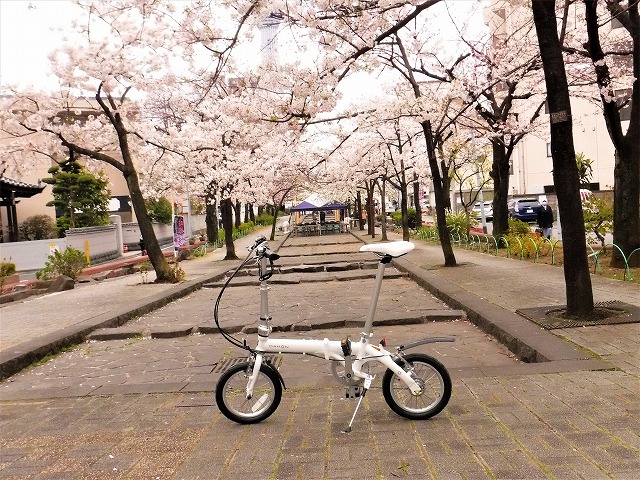 Outline of the tour
This tour is our main bike tour including not only popular touristic places but also local backstreests where tourists rarely visit.

Departing our tour base, we cycle along Sanyabori park and reach Matsuchiyama Shoden Temple, one of the constituent temples of Sensoji, Tokyo's oldest temple. Then, you will also visit Imado Shrine, a power spot for couples and those looking for love.

We continue cycling on backstreets and cross the bridge on Sumida river by bikes, where is one of the best points to take pictures with the Tokyo Skytree (634m).

Then, we have a break at a Japanese traditional sweets shop "Chomeiji Sakuramochi".
This tour will introduce off-the-beaten-path shopping streets and street foods.

You'll get to visit Kappabashi Dougu streets (also known as "Kitchen Town" or "Kitchen Street") in Tokyo where you can find kitchen tools, tableware, and plastic food replicas.

Finally, we visit the Yanaka Ginza shopping mall after cycling through the Yanaka cemetery.
This mall is one of the oldest malls in Tokyo, where you can find fine Japanese streetfoods.
Place to visit
Sanyabori Park(山谷堀公園)
Soyabori Park used be a canal. Those who enjoyed Yoshiwara was red-light district established in Edo era (17th century). food and theatergoing in Asakusa moved to Yoshiwara by boat.
Matsuchiyama Shoden temple(待乳山聖天)
This temple is a part of Sensoji, founded in 595. There are many images of a "daikon (Japanese radish)" and a pouch in the temple. The daikon represents our minds trapped in deep ignorance, emanating poison of anger, but off by a daikon to temple, that poison will be removed from our The pouch is a symbol of treasure, and it represents the gift of prosperity in business. There is a beautiful garden, which is authentic Japanese style, in the temple. You can ride a small transportation (like a train) to go to the main building instead of walking up stairs.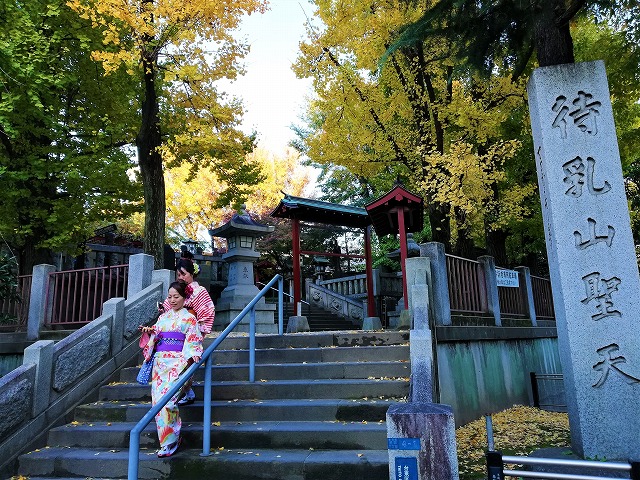 Imado shrine(今戸神社)
Founded in 1063, this shrine is now a "Power spot", that is popular for people who want lovers or marriage partners. (Power Spot = Sacred place) Beckoning Cat, Fortune Cat We say believing beckoning cats are great fortune, such as business prosperity, family happiness. Cat's left paw brings many customers. Right paw brings money.
Chomeiji Sakuramochi(長命寺桜もち)
Sakuramochi, a Cherry Cake, is one of the most popular Japanese traditional sweets, which is wrapped in a salt-pickled cherry leaf, filled with red bean paste. They say, this shop was found the first Sakuramochi in Edo era. Why it is wrapped Probably, somebody looked to a lot of leaves on ground, fallen from cherry blossom trees, and thought to use them for some food.
Kappabashi utensil street(かっぱ橋道具街)
A shopping mall consisted of about 170 shops sells kitchen equipment, tableware and shop equipment. than them, there are few food samples shops. (Dougu = tools)
Yanaka Ginza shopping mall(谷中ぎんざ)
Yanaka is known as one of the old-town district. Shopping mall in Yanaka is a low-key commercial area where a lot of local people live, and old shops and buildings gather.
Price – ¥7,000 (yen)
Duration – Approx. 4 hours
Inclusions – bike rental, 1 bottle of water and 1 Japanese sweet.
Exclusions – transportation to/form the meeting point. Additional orders food and drinks.
---